This is going to be quite a long post as the journey I took to get to having profitable downloadable items on Etsy was quite a lengthy process. This is because I did it over a number of months, you could do the same thing in a number of days. I currently make £5 a month from Etsy, over the next year I am going to look to increase the items I have in my shop. £5 might not seem like a lot of money, however, I do not have to do anything to get this money it goes straight into my bank account, it's a nice little bonus!
Why did I create a PDF to sell on Etsy?
In 2017 I was lucky enough to help organise my partner's grandmas 100th birthday party. We wanted to send people an invitation that looked like a telegraph. I could not find anything online that would fit what we were looking for. So I decided to try and create my own on PowerPoint. I am not a designer by far and what I created was pretty messy.
Because I wanted the invitation to look professional I decided to post an advert on Upwork to see if I could get a designer to create something beautiful. At this point, I didn't plan on selling this PDF on Etsy.
What is Upwork?
Upwork, formerly Elance-oDesk, is a global freelancing platform where businesses and independent professionals connect and collaborate remotely. You create an account, post a job advert and how much you are willing to pay and then wait for people to contact you. Once you have found someone you think can do a good job, you hire them through the site and all the contract and payment is sorted through the site. It is very simple.
What do you need to include in the job post on Upwork?
This is the original posting on Upwork. It is very simple and you can see that I only wanted to pay $10 for the invitation. It took me a day to find a designer that could do the job and a further 4 days for them to create the PDF and send back to me.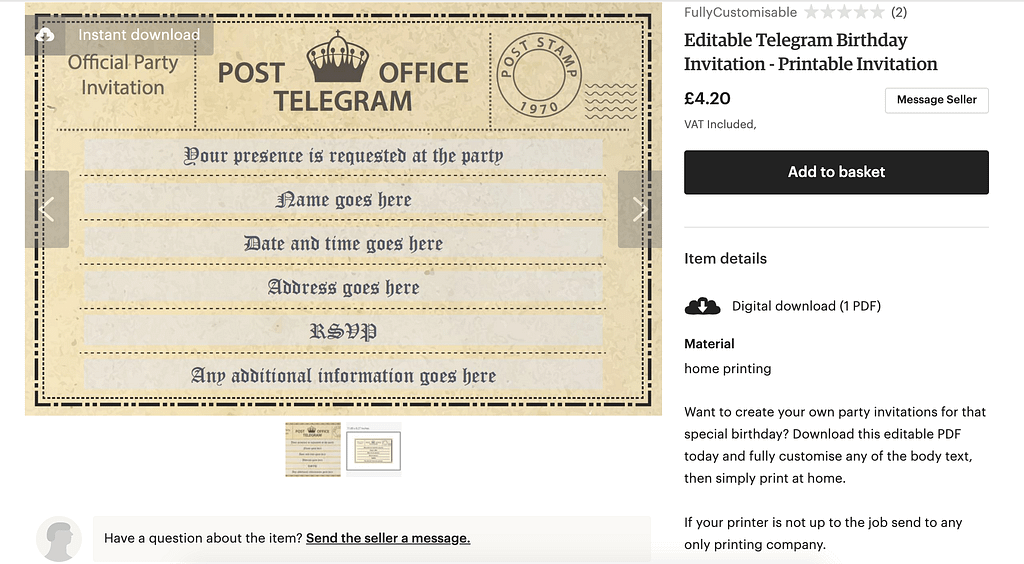 This is the PDF that I had designed with the editable fields: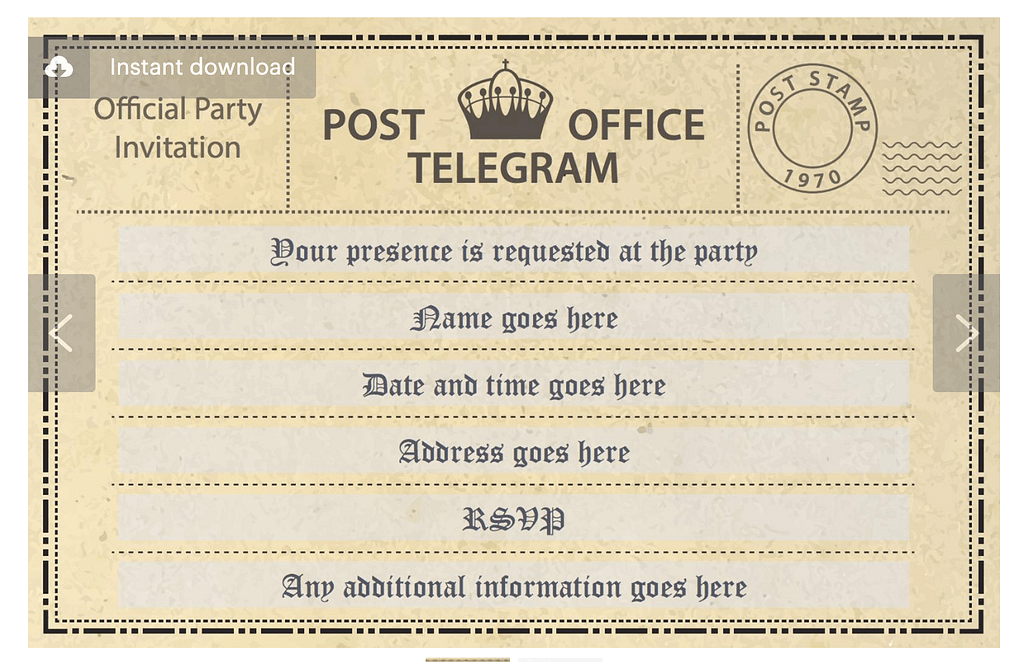 I was very happy with the invitation and use this to create all the invitations for the party. The party was fantastic and everyone loved the invitation!
Why did I put the PDF on Etsy?
About 6 months after the party I started using Etsy and noticed that you could sell downloadable items. I thought that if I needed a telegram invitation that other people probably do as well. I decided I would list the downloadable PDF and see what happens.
When you list a digital item, the customer receives a download link after payment. You don't have to do anything else, you just get a confirmation email and money in your back! This is what my listing looks like, you can also view the item here –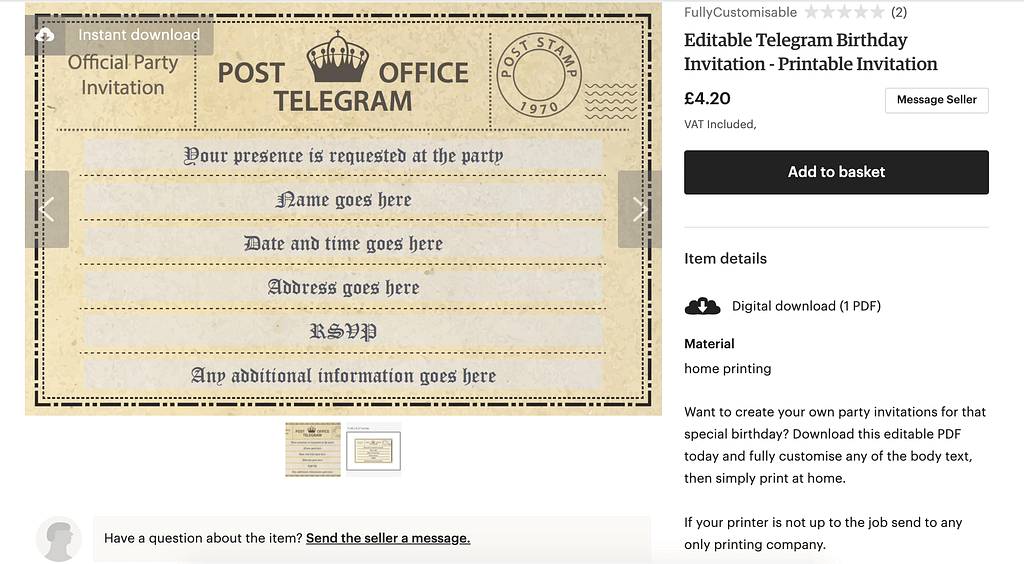 How can I create a PDF to sell on Etsy?
The steps are simple:
Create something unique, is there anything that you can't purchase online?
Come up with a simple design
Use Upwork to post a job and get a designer to create something beautiful
Create a shop on Etsy and sell the downloadable PDF
Wait for the orders and money to come into your bank account
Have you created anything that you think you should be selling online? Do you need any help? I am more than happy to give more detailed advice, please contact me. Have you checked out our latest posts, read more about how you can easily make money at home.